Morgane Oger Joins Conversion Therapy Survivor at Upcoming Vancouver Event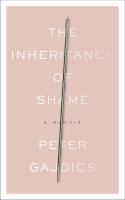 Inheritance of Shame Author Peter Gajdics
Vancouver, B.C. May 16, 2018

Transgender rights activist Morgane Oger will be joined by The Inheritance of Shame author Peter Gajdics on Thursday, May 17 at the Vancouver Public Library to mark the International Day Against Homophobia, Transphobia and Biphobia. Gajdics will read from his memoir that recounts his experience in conversion therapy and following this, Oger and Gajdics will have a lively conversation.
"It is important that we mark this day because discrimination against the LGBTQ community still exists not only around the world but also here in Canada" said Morgane Oger. "The most recent reports on hate crimes indicates they have jumped by 25% in British Columbia in 2016 and anti-LGBTQ rallies are taking place. This is unacceptable and we have to find a way to address it. Through conversation, I hope that Peter and I will be able to shed some ideas of how to move forward at this event."
The Inheritance of Shame details the six years author Peter Gajdics spent in a form of conversion therapy that attempted to "cure" him of his homosexuality. Gajdics' story explores the universal themes of childhood trauma, oppression, and intergenerational pain. "I am delighted to join this important event at the Vancouver Public Library with Morgane Oger. Together we will have a much needed dialogue," said Gajdics. "The work of organizations such as the Morgane Oger Foundation are bringing much needed attention to discrimnation against LGBTQ people is still present."
"The Morgane Oger Foundation works to reduce injustice in Canada. It's long overdue that we stop enabling stigma based on sexuality and gender. Service providers in Canada should be made to face consequences for promoting the dangerous notion that being gay, transgender, bisexual, or two spirit is something that needs fixing," concluded Oger.